A large and deep fracture is tearing East Africa apart. A terrestrial divorce between two tectonic plates that never ceases to shape the landscape and the life in this part of the world. Lakes and volcanoes were born from this split, thus contributing to slow but inexorable changes in ecosystems.
Coinciding with this geological phenomenon, evolution gave birth to eastern gorillas, rejecting each of the two subspecies on both sides of the rift.
Mountain and Grauer gorillas are all threatened with extinction, and each moment shared with these gentle giants is such a singular and precious experience.
From Rwanda to DR Congo, from Kahuzi-Biega National Park to the slopes of the Virunga, discover strong individualities, remarkable stories as well as the "enfant terrible" of the region, the Nyiragongo volcano, symbol of a tormented geological past which brings together the two sides of the Albertine Rift.
Sébastien Meys
AGENDA
2018
- « Expos Photos Aves festival », Town of Namur, Belgium,September 20-23, 2018
- « International Festival of Wildlife and Nature Photography », Montier-en-Der, France, November15-18, 2018
- «Photos & Nature Festival», La Tremblade, France,November24-25, 2018.
THE BOOK
Mountain and Grauer's gorillas are the world's largest primates.
Throughout this original travelogue with captivating and emotional black-and-white portraits, follow the trail of the gentle giants along the Albertine Rift.
Foreword of Mr. Innocent Mburanumwe, Warden of Virunga National Park's gorilla sector.
Texts in French and English.
Format: 16.5x23cm
128 pages
Printed on Freelife Velum Premium White paper 140g (mat).
Cover Materica ARDESIA with silver hot stamping.
A slipcase deluxe version is also available. It includes:
- 1 copy of the book "Beringei"
- 1 print (14x21cm) in edition limited to 30 copies
- 1 DVD (data) with a 13-minute film displayed during the photo exhibition and a 8-minute film in 360VR.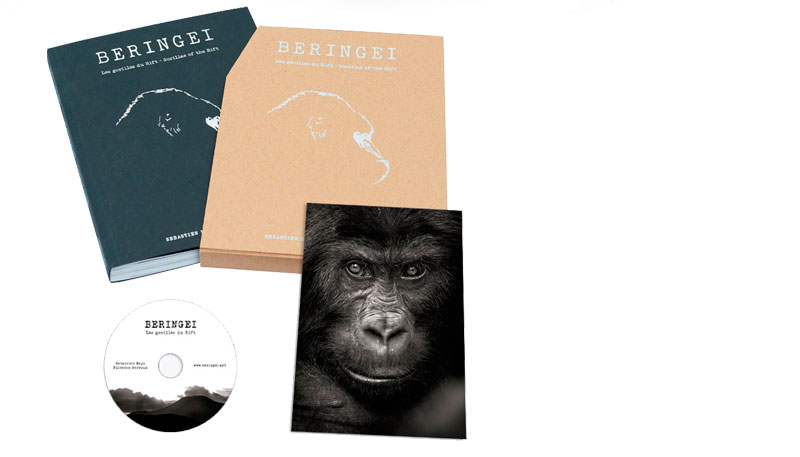 Order the book
MOBILE APP
Expand your experience while you visit the photo exhibition by using a dedicated app! A mobile application is available with additional contents (pictures and videos).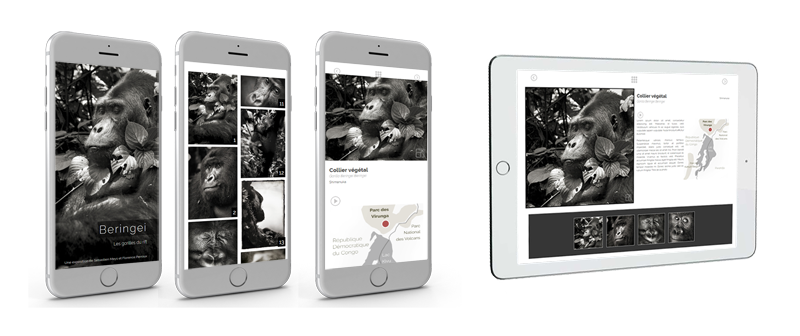 VIDEO
The photo exhibition is accompanied by two films:
- A 13-minute film takes youto DR Congo to discover the world's largest primates: the mountain gorillas in Virunga National Park and the Grauer gorillas inKahuzi-Biega National Park.
It is also available on the DVD included in the slipcase version of the book.
Discover trailer
VR360
- A second film shot in 360VR allows you to live an immersive experience by taking control of the camera. You will walk through the forests of Congo in search of the gorillas and climb the Nyiragongo volcano to contemplate the world's largest permanent lava lake.
This film is also available on the DVD included in the slipcase version of the book.
Discover the trailer (to be seen in 4k):
KEEP IN TOUCH!
Wanna follow the Beringei adventure and be notified about new events?